#fightfortheinnocentinc
#wearetheirvoice
We urge congress to act on Alcee Hastings H.Res. 401
The H. Res. 401, previously House Resolution 30, is now addressing China, South Korea, Vietnam, Thailand, the Philippines, Indonesia, Cambodia, Laos, India, and all nations to outlaw the dog meat trade.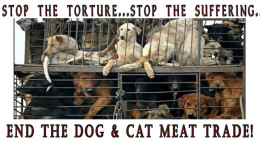 Congress needs to address the H.Res.401 introduced by Congressman Alcee Hastings. Dogs and cats are sadistically and intentionally tortured everyday so they feel more fear and pain because of the belief that it makes their "meat" tender, taste better and gives men sexual stamina. A few ways include;thrown in boiling water,hung and released repeatedly,blowtorched,skinned,electrocuted anally and orally, feet cut off to prevent escape, throats sliced open.The entire time these victims are still alive to feel all of it. Most of them are pets stolen from loving families&some are even found tortured to death still wearing collars.This is all being done in front of young children who grow up thinking it's normal.This type of behavior goes beyond the realm of a normal human being's mind. IT HAS TO END!
Public Comments
Public Comments (625)
Sep 20th at 7:14 am
Madeline C. from Patchogue, NY signed.
Sep 20th at 6:17 am
Mário K. from Eugene, OR signed.
Sep 20th at 2:19 am
David P. from Sherwood, AR writes:
Dogs are the loving and loyal best friends of undeserving humans. Our best friends should not be tortured, killed and eaten!
Sep 20th at 1:39 am
Giusy C. from New York, NY signed.
Sep 20th at 12:32 am
Kae B. from Quincy, IL signed.
Sep 19th at 10:57 pm
John S. from Altavista, VA writes:
This is EVIL! It needs to be stopped!
1 day ago
Marie S. from Aptos, CA signed.
1 day ago
Richard W. from Huntington Station, NY writes:
This is a humanitarian imperative that must succeed. The horrifying, vicious, and mercilessly cruel slaughter of dogs and cats is incomprehensible. There are no excuses. The Human Race took these beautiful creatures out of the wild and domesticated them as it's companions and protectors. WE took away their NATURAL fear of Man, and replaced it with love and devotion to US! What have they done to deserve this horrifying death! STOP THE DOG AND CAT MEAT TRADE NOW!!
1 day ago
Tina J. from Mililani, HI writes:
PLEASE this must STOP NOW! Thank you for your support!
1 day ago
Tina J. from Mililani, HI signed.