#fightfortheinnocentinc
#wearetheirvoice
We urge congress to act on Alcee Hastings H.Res. 401
The H. Res. 401, previously House Resolution 30, is now addressing China, South Korea, Vietnam, Thailand, the Philippines, Indonesia, Cambodia, Laos, India, and all nations to outlaw the dog meat trade.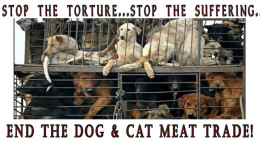 Congress needs to address the H.Res.401 introduced by Congressman Alcee Hastings. Dogs and cats are sadistically and intentionally tortured everyday so they feel more fear and pain because of the belief that it makes their "meat" tender, taste better and gives men sexual stamina. A few ways include;thrown in boiling water,hung and released repeatedly,blowtorched,skinned,electrocuted anally and orally, feet cut off to prevent escape, throats sliced open.The entire time these victims are still alive to feel all of it. Most of them are pets stolen from loving families&some are even found tortured to death still wearing collars.This is all being done in front of young children who grow up thinking it's normal.This type of behavior goes beyond the realm of a normal human being's mind. IT HAS TO END!
Public Comments
Public Comments (655)
Oct 28th, 2017
Sandy L. from Brainerd, MN writes:
There is absolutely no reason to intentionally torture, and then eat companion animals. The cruelty must stop in every country. #catmeat #dogma
Oct 22nd, 2017
Robert P. from New York, NY signed.
Oct 20th, 2017
Kathy W. from Fort Lauderdale, FL signed.
Oct 19th, 2017
Linda H. from Woodford, VA signed.
Oct 19th, 2017
Brandon L. from Anaheim, CA signed.
Oct 18th, 2017
Marie W. from Newport, OR signed.
Oct 18th, 2017
Katka O. from Holt, CA writes:
The killing of cats and dogs in Asia must stop!
Oct 17th, 2017
michelle t. from Placerville, CA writes:
Asia's horrific murder of dogs and cats MUST stop.This is barbaric and uncivilised!
Oct 17th, 2017
Franziska E. from Baltimore, MD signed.
Oct 17th, 2017
Ruth L. from South Yarmouth, MA signed.